Traditional Shopping in Bali :
The local markets of Bali offer a fascinating stroll down the fashion street of Bali from where you can pick some nice dresses and best stuff for your wardrobe. When it comes to Shopping, Bali spoils tourists & shoppaholics with its myriad choices. From famous international brands to locally famous goods, one can find everything in Bali. Denpasar, Kuta, Ubud, and other local villages are the best places to shop around in Bali. Some of the best places to bag in great stuff are :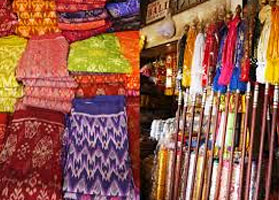 Denpasar :
The biggest traditional market in Denspar is known as Kumbasari market. It is situated near Badung River. In this market you can find great Balinese food, spices, household wares, clothes, arts & crafts, and many more things. It is great place to shop in some cheap stuff in Bali. While, the Gajahmada Street is known for its handicrafts, Sulawesi Street is famous for fabrics & household wares and the gold shops at Hasanudin Street are the best place for jewelry.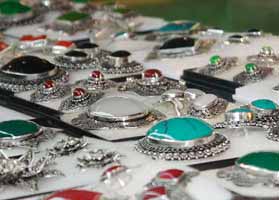 Celuk Village :
Celuk Village is famous for its gold jewelry and silversmiths. From here you can buy great gold & silver accessories like rings, chokers, bangles, pins, earrings, brooches etc. The shops located in the village are owned and run by local villages and tourists can find some great artistic appeal to the expensive items.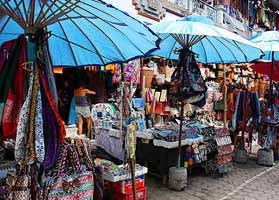 Ubud :
Ubud is famed for its galleries and shopping places. The Monkey Forest Road locally known as Jalan Monkey Forest is home to authentic restaurants, resorts and cafes. Moreover, when it comes to shopping, Ubud offers great art designs, handicraft, painting, antiques and much more at this street.
Kuta :
Kuta is a famous village in famous for its beach, surfing, party, and shopping. The markets here sell clothing, handicrafts, CD, jewelry, leather crafts, and furniture. There are numerous stalls and food hawkers at the street. Some of the famous places to shop around in are The Bypass/Ngurah Rai Street at Simpang Siur, Kuta Square, and Kuta Art Market.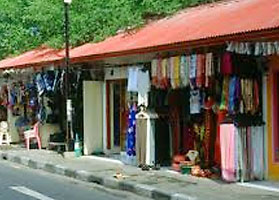 Seminyak & Legian :
The best place to shop in Seminyak are the streets Jalan Kunti and Jalan Laksmana, where one can find everything from clothes, leather, and household wares. Legian is famous for its beach shopping. The small alleys comprising great art shops is the best place to bag in fine works at affordable prices.