Shopping in Dubai
Called the 'Shopping Capital of the Middle East', Dubai, which is a better place to get products at unbeatable prices, is home to a number of shopping centers and Souks. Because of really being a duty free shopper's paradise, this destination provides more for the money of the buyers. Catering for the needs of every consumer under the same roof, several shopping centers of Dubai have the plenty of clothing, cars, electronics, jewelry, sporting equipments, furnishings and all other goods.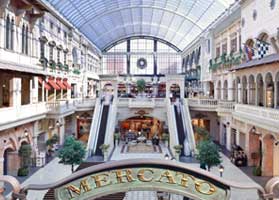 Mercato Shopping Mall: Taste of Europe
Meaning 'market', Mercato is the word of Italian language. Being the first ever themed mall in the Middle East and UAE and symbolizing a clear departure from the Arabian architecture, Mercato Shopping Mall, which provides its visitors the fantastic shopping experience of all the things like top international brands, cobbled streets and piazzas, is situated in the reputed Jumeriah residential area or Dubai. Boasting of more than 140 shops and service outlets with electronics, Homeware, jewelry and luxury items, Mercato, which is a favorite among tourists and locals alike, has the Fun City for the children to play in and a movie and street cafes for the adults.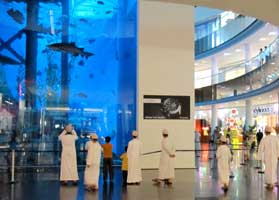 The Dubai Mall: Ice-rink, Aquarium and Luxury Shopping
Situated along Doha Road just far Sheikh Zayed Road, the Dubai Mall, which hosted more visitors than New York City last year, is the largest and most visited entertainment and shopping complex in the world. Besides being home to more than 1,200 retail stores, this premier mall of Dubai has other main attractions like Aquarium, which is home to one of the largest viewing panels, an ice skating rink of Olympic proportions and an underwater zoo. This mall, which provides entry to the Burj Khalifa as well as the Dubai Aquarium, also hosts the particular events like the annual Dubai Shopping Festival and the Dubai Summer Surprises Festival. To expand this mall, even further, plans were announced by the officials before this year.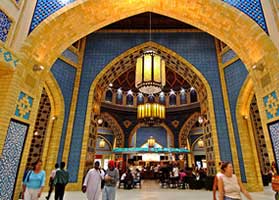 Ibn Battuta Mall: Around the World in an Afternoon
Located on the Sheikh Zayed Road in Dubai near interchange 6 in Jebel Ali Village, Ibn Battuta Mall, which has its features of over 275 retail shops, 50 restaurants and food outlets, a 21-screen cinema comprising the merely IMAX theatre in the UAE, is the world's largest themed shopping mall. Uniquely designed to mark the travels of the renowned Arabic explorer named Ibn Battuta, this majestic mall, which has the parking space, with a total of 5,21,000 square meters, for more than 4,500 vehicles, is bringing the revolution of the entertainment and retail experience in Dubai.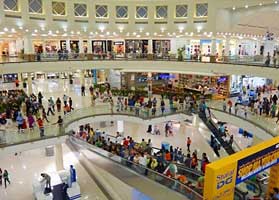 Deira City Shopping Centre: the First of the Mega Malls
Home to more than 350 stores with a diverse range of merchandise and famous for its friendly service, Deira City Shopping Center is situated on the waterfront in Dubai. Being a great place for jewelry with 33 dedicated stores, this grand mall offers all of the great fashion brands as well as jewelry, electronics and local specialties like oriental, cashmere and silk rugs. There're more than 40 restaurants in this mall to choose one to relish mouth watering food in. A Magic Planet and a cinema are made in this complex to entertain the kids. Offering entertainment, leisure and shopping within only one complex to open in Dubai, Deira City Center has been the first of the mega malls. The complex of this mall draws the attention of approx 20 million visitors each year. Convenient to approach, the mall operates shuttle buses to and from 11 of the main hotels in Dubai.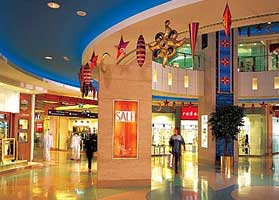 Al Ghurair City Shopping Center: the Most Ancient Mall in Dubai
Catering for those particularly looking for traditional Emirati clothes, the shopping center named Al Ghurair City, which is situated in Deira, is the most ancient mall in Dubai. In the several shops of this mall, you can buy stylish Shaylas and Abayas and Arabic rugs and jewelry along with the shopping of the best of the high street brands like French Connection, Baby Phat and Esprit. Well-famous outlets like Nine West and Paris Gallery are also included in this shopping center. Offering shows of Bollywood and Hollywood films, a large cinema, which is situated just close to it, can also be visited here.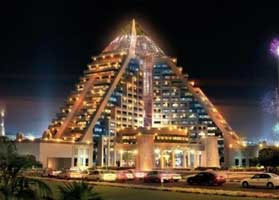 Wafi City Shopping Mall: Authentic Arabian Shopping
Housing 350 unique stores and mostly focusing on a unique shopping experience of jewelry, luxury brands and costly boutiques like Givenchy and Chanel, Wafi City is the shopping mall in Dubai, which is located just south of the Creek in Dubai. The architecture of the Egyptian theme in the new wing comprises lovely stained-glass pyramids, which are worth visiting. Offering a gym and cosmetic treatments, a rejuvenation center can also be enjoyed in the complex of this mall. The complex of this mall, which is abundant in restaurants and retail outlets, also has a luxury spa adjoined to it as well as several bars with license.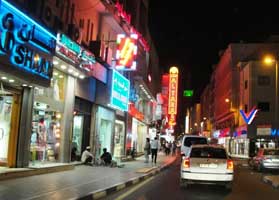 Al Fahidi Street: Experience the Best of Street Shopping
Electronics are much cheaper in Dubai than in any other part of the globe as this country is completely tax free. Lined with electronic shops that sell laptops, computers, cameras as well as household electronics such as washing machines, refrigerators and ovens, Al Fahidi Street is the best place for street shopping in Dubai. You must make sure to check voltage requirements and to ask for an international warranty while purchasing electronics in this city if you're thinking of returning with anything to your native land.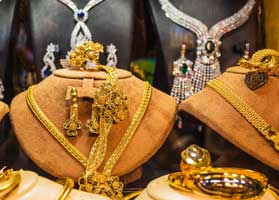 Gold Souk – Gold and Jewellery Shopping
Situated at the mouth of the Creek along Al Sabkha Road, Deira, Gold Souk, which is the largest gold market in Dubai and a must visit for its tourists, has provided Dubai the reputation of being the city of gold. Containing more than 400 shops providing all types of jewelry available in Arabic and Indian styles along with some European designs, this very impressive historic market in Dubai is home to several splendid items like gold bangles, diamond rings, pearl necklaces and likewise to opt for. As Dubai has no VAT or tax applicable on the buying of gold, the prices of gold in this city are amongst the cheapest sold anywhere in the globe.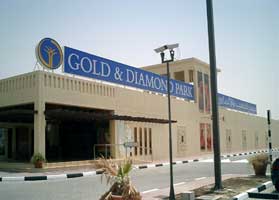 Dubai Gold & Diamond Park
Home to 120 manufacturing centers and 90 leading retailers desirous to negotiate best deals on gold, diamond and fine jewels, the luxurious mall named Gold & Diamond Park, which is situated at the interchange No. 4 on the Sheikh Zayed Road at a distance of 23.5 kms from Dubai International Airport, Dubai, is the Arabian designed shopping center, an extension of the Jebel Ali Free Zone. This mall also has the space for over 350 offices.