Food in Dubai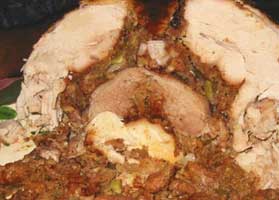 Stuffed Camel - the Most Astounding Luxury of Taste
Described in the Guiness Book of World Record as one of the biggest menus and providing its grabbers the most astounding luxury of taste, the dish of Stuffed Camel, which is often taken to be a myth, has obtained several disbelieving and critical compliments. Being a multilayered stuffing of eggs, chicken, sheep and fish in an entire camel, the surprising and the tasty roasted camel recipe, which has been served in the Bedouin ceremonies such as marriage, at present, has become the gem of occasion in the houses related to the elite classes in Dubai.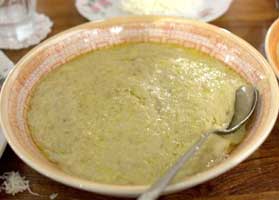 Al Harees
Prepared by blending a pinch of salt in a utensil of wheat and adding meat in it and cooking the entire mixture till everything obtains a coherent smoothness of taste and texture, the dish of Al Harees, which is prepared after long hours by baking for many hours and then served, is the remarkably simple and elegantly tasty food item of the UAE. To excite your taste buds and enhance fuel to the fire of taste, you can add things as per your choice to make variations of this dish.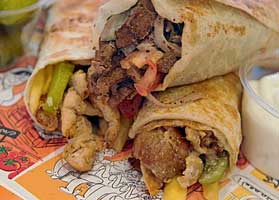 Shawarma
Prepared of lamb or chicken meat along with a colorful series of fries, vegetables, garlic sauce and pickles, this popular and probably the most eaten food in Dubai has obtained much fame all over Asia too. In spite of having the variation of the preparations and taste of this recipe from place to place now-a-days, the graph of the fame of this recipe has never shown a parish. The strawberry-banana mix is one of the most ordered fruity drinks that accompanies this recipe.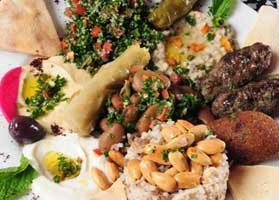 Ghuzi
Counted among the pride holder food items of Dubai restaurants, Ghuzi, which is prepared of an entire roasted lamb served on top of rice with nuts and vegetables, is a famous recipe served in most of the restaurants in Dubai. The people, who are desirous to obtain a core taste of Dubai food, must relish a meal of Ghuzi.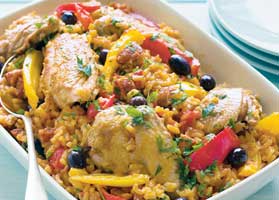 Matchbous
Prepared of spiced lamb, rice, tomato and stew, the dish of Matchbous is another lamb recipe from the excellent food assortment of Dubai's cuisine. Loomi, which is prepared from salt water and ripe limes, is a spicy 'spice' that shares the fame of this lamb recipe. Visitors should try this recipe to excite your taste buds. Once grabbed, you will undoubtedly reorder for this recipe.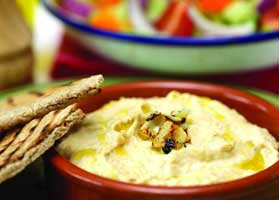 Hummus (Veg)
Prepared of chickpeas, Tahini paste, olive oil, salt, garlic and lemon juice, the dish of Hummus, which is served with pita bread and fulfills the niche for a complete appetizer or snack, is a well-famous dip from the Middle Eastern culture. This item is also served as a dip with several foods. To enjoy the unique taste, you must try this dip with Shawerma or other foods.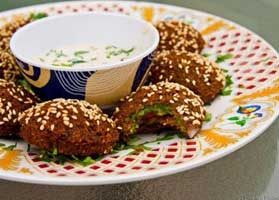 Falafel (Veg)
Well famous as Ta'amia in the Middle East, this mouth-watering dish, which also has the reputation as a usually eaten snack in Israel, is one of the most famous dishes in the Arab East. The grabbers of this snack feel the taste in their heart. With Arabic color to the French origin, this essential recipe is a modified version of French fries. Having a blend of chickpeas and several spices, this dish is usually served as a side dish.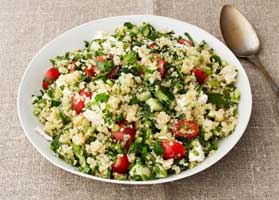 Tabbouleh (Veg)
Prepared from green onions, cucumber and tomatoes and seasoned with lemon juice and fresh mint, the dish of Tabbouleh, which is a genuinely vegetarian version of Arabic Cuisine, is a salad. Besides boosting up the health benefits, this recipe quenches the appetite in a balanced manner. Manifesting the integrity of those long passed traditions of taste, the fame of this salad is associated with the traditions of the UAE.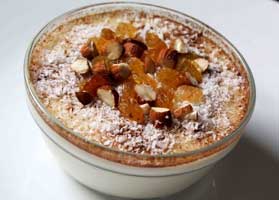 Mahalabiya (Veg)
Having the sprinkling of pistachios and rosewater, this astonishing and refreshing recipe is basically a pudding. The people of almost all age groups like this all-time favorite dessert. You must enjoy this festive drink to upgrade your taste buds and get back home with the sweet memories of the tasteful cuisines of Dubai.