Mauritius Tourist Attractions: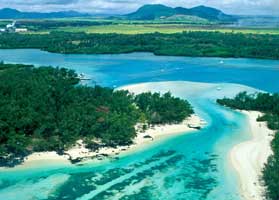 Ile Aux Cerfs Island
Ile Aux Cerfs Island located near the eastern coast of Mauritius is a famous and enticing attraction. This wonderful island is spread across 100 ha of land and is known for its splendid sandy beaches, beautiful lagoons, and great activities. This place is one of the best spots for connoisseurs who wish to enjoy a relaxing day beside the most amazing vistas of the crystal clear azure beaches surrounded by lush greenery & dense vegetation.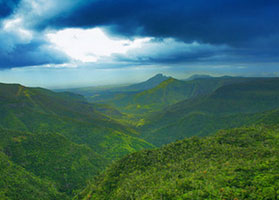 Black River Gorges National Park
Black River Gorges national Park is a famous wildlife destination snuggled in the cragged south-west region of Mauritius. Spread over a wide area of 67.54 km², the national park comprises humid upland forest, marshy heath-land, and drier lowland forest. Apart from its dense vegetation, the national park also houses a great variety of fauna including rusa deer, pink pigeon, wild pigs, kestrel, parakeet, cuckoo-shrike, bulbul, olive white-eye, grey white-eye and fody. The national park also comprises 4 fields' stations, 2 information centers, picnic spots and trekking trails stretching up to 60 kilometers.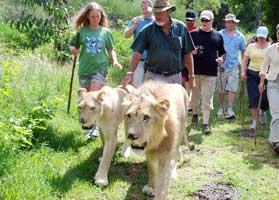 Mauritius Safari and Bird Park
The Mauritius Safari and Bird Park is a famous place for tourists. Situated in the South-West region of Mauritius, the sanctuary offers picturesque views of the countryside. The wildlife centre comprises 150 bird species from different regions of Asia, Australia, Africa and America. The national park also houses a restaurant and hosts activities like lions/cheetahs/tigers interaction, lions drive through, walking with lions & tigers, quad biking, segway & zip lines excursion, exclusive safari jeep trip etc.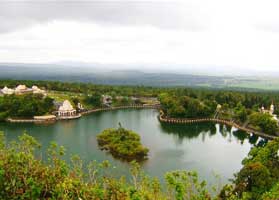 Ganga Talao
Also known as Grand Bassin, the ganga Talao is basically a crater lake at 1800 feet above sea level located amidst the secluded rugged region of the Savanne District. This lake is considered the most pious Hindu place in Mauritius. Along the Crater Lake, there is a temple made in honor of Lord Shiva, and other Gods including Devi Lakshmi, and Hanuman. This lake offers a great sight during Shivratri when pilgrims visit this sacred place bare feet right from their home.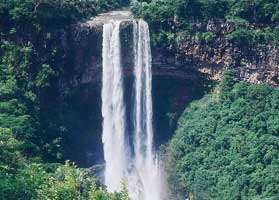 The Tamarind Falls
Tamarind Falls or tamarin falls are one of the most beautiful waterfalls in the world. These are seven cascading waterfalls which can be found in the Henrietta village, south-west Mauritius. These waterfalls originate from Rivière Tamarin and comprise 7 simultaneous waterfalls. With a height of 961 ft., these waterfalls are the highest waterfall in Mauritius.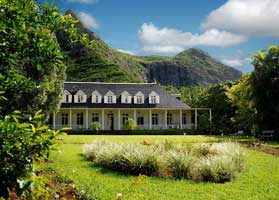 Eureka
The Eureka House, constructed in the year 1830 is a magnificent Creole house located near the river of Moka. It is a magnificent piece of architecture that was owned by the aristocrats from Britain & France during the 19th century. A visit to Eureka House gives an enticing insight into the colonial architecture and the life enjoyed during those times. Inside the house, visitors can find an array of antiques, paintings, and photos from the colonial times. The house also comprises an amazing garden surrounded by the waterfalls of the Moka River. Visitors can enjoy some great meals at the Eureka restaurants, and later on indulge into fun activities.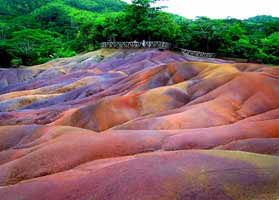 Chamarel- Seven Colored Earth
The seven colored earth is a geological formation found at the Chamarel village, in the Riviere Noire District in Mauritius. It is basically a small area of sand dunes comprising seven different colors sand (red, brown, violet, green, blue, purple, and yellow). Visitors can catch a glimpse of the amazing sand from observation outposts. There are also shops near the region, which sell test tubes filed with the seven colored soil from Chamarel.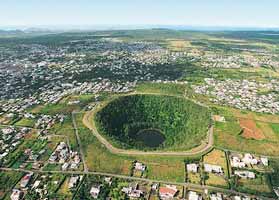 Trou Aux Cerfs
Trou aux Cerfs, also famed as Murr's Volcano is a dormant volcano with chiseled cone & crater. This crater is 1,985 ft high and situated in Curepipe, Mauritius. Alternatively, the crater comprises 300-350m diameter and 80 m depth. Though the volcano is inactive, but scientists believe that it can become active within a few thousand years. Due to water & silt clogging, and steep embankment, the crater is not very well accessible.
Apart from all these attractions, there are still numerous places in Mauritius you would love to visit like, Sir Seewoosagur Ramgoolam Botanical Garden, Flic-en-Flac village, Pieter Both, Jummah Masjid, etc.