Food in Thailand: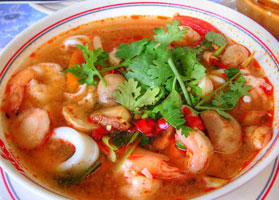 Tom Yum Goong (Spicy Shrimp Soup)
With its legendary herbal kick, this classic soup has a refreshing, bold blend of fragrant chili, lemongrass, Galangal, shallots, lime leaves, fish sauce and lime juice. This soup gets its body from straw mushrooms and succulent fresh prawns. Having particular smell reminding you of exotic aroma, it is a versatile dish that can actually make its combination with any meal and you can feel the invigorating sour-spicy-hot taste of this soup just screaming 'Thailand'.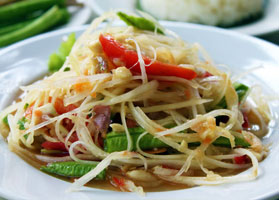 Som Tum (Spicy Green Papaya Salad)
Som Tum or the Spicy Green Papaya Salad is the outlandish dish, which belongs to the Northeast state of Isaan. Made of chilies, garlic, cherry tomatoes, shredded raw papaya and green beans by getting them dramatically pulverized in a mortar and pestle, this dish releases an unforgettable rounded sweet-sour-spicy flavor. To catch its new grabbers by surprise, peanuts, salted crab or dry shrimp into the blend is sprinkled topically by regional variations.
Gaeng Daeng (Red Curry)
Gaeng Daeng is the rich aromatic curry of Thailand, which always finds those taste buds tingling, is made with morsels of red curry paste, meat, smooth coconut milk and topped off with a scattering of excellently sliced leaves of Kaffir lime. As the taste of this dish is sweet, delicate aromatic and mild, a charming woman could love having it, when the meat is stunningly soft at its best. Its grabbers miss this dish much if it is absent in their meal.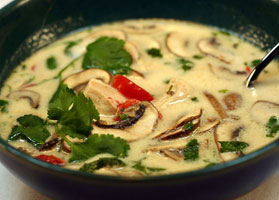 Tom Kha Kai (Chicken in Coconut Soup)
Tom Kha Kai, which has a mild, tamer twist on Tom Yum, is the iconic soup made of thinly sliced young Galangal, fiery chilies, delicate strips of chicken, stalks of lemongrass and crushed shallots. The spicy blow of this soup is softened by lashings of coconut milk, unlike its more watery cuisine. Being compelling and creamy, it's a sweet-fragrant concoction, which is topped off with fresh lime leaves.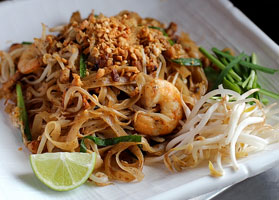 Pad Thai (Thai style Fried Noodles)
Pad Thai (Thai style Fried Noodles) has become famous as the default international Thai dish from Cape Town to Khao San Road. Before disembarking for the closest plate, a steamy minute-long dance alongside crunchy bean sprouts, egg and onion is made by dropping in a searing hot wok, fistfuls of small, wide or thin noodles. This dish is prepared by using a quartet of additional condiments – sugar, fish sauce, excellently ground peanuts and chili powder.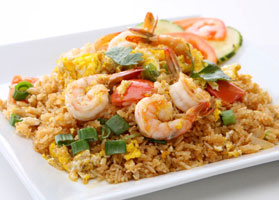 Khao Pad (Fried Rice)
Khao Pad, which is a famous lunch dish served authentically with slices of cucumber and a wedge of lime, is prepared by using the necessary ingredients – fried rice, onion, egg and a few herbs. The simplicity of this dish makes the clue of unpretending. In the process of converting a wonderful pauper into a gastronomic prince, Thais use everything – crab, chicken, prawns, basil, leftover vegetables and chili.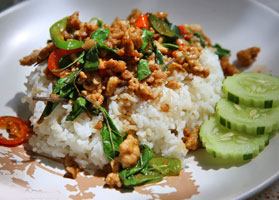 Pad Krapow Moo Saap (Fried Basil and Pork)
Prepared in a piping hot wok with lots of sacred basil leaves, pork, large fresh chili, soy sauce, a little sugar and green beans, Pad Krapow Moo Saap (Fried Basil and Pork), which is an incredibly renowned 'one plate' dish for lunch or dinner, is really one of the most famous Thai dishes. Blended with the steamed white rice for a finely fulfilling meal, the fatty, minced pork is oily. On demand of an egg with it, this dish is topped with a fried egg (Kai Dao).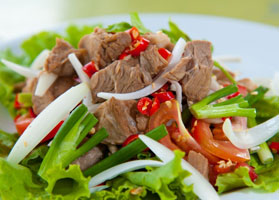 Yam Nua (Spicy Beef Salad)
Famous like a 'Salad Hall of Fame', 'yam' or 'zesty own breed of Thailand', Yam Nua or Spicy Beef Salad is made with the sprightly blend of coriander, onion, lime, spearmint, delicate strips of beef and dried chili to provide its grabbers the experience of fiery, fresh thrill of this dish. Yam Nua is considered as one of the mouth-thrill of all Thai salads.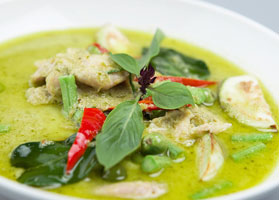 Gaeng Keow Wan Kai (Green Chicken Curry)
To prepare the body of this seminal curry named Gaeng Keow Wan Kai or Green Chicken Curry, the humble ingredients are generous handfuls of sweet basil, sprigs of coriander, delicate bamboo shoots, cherry-sized eggplants and morsels of fresh chicken. As the spoons of green curry paste is stirred furiously into hot creamy coconut milk, this dish gets so gloriously green. Having the extreme opposite, Gaeng Keow Kan Gai is served alongside a bowl of aromatic Thai rice.